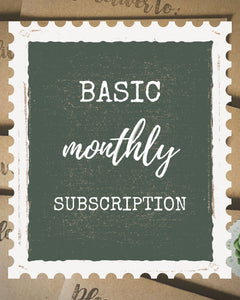 Writings from the Wild
Basic Monthly Subscription
Regular price
$7.00
$0.00
Unit price
per
This subscription option includes:
-A high-quality print of a double-sided letter that is traditionally handcrafted and printed on matte paper. Each letter is a work of art!
-A collector's card with the artwork of the animal on the front. The back of the card included the type of animal, the biome the animal lives in (which is color-coded!), several key facts, and the conservation status. These cards are perfect for a flash-card style review, keeping in a binder, grouping into categories, or any other additional learning!

A letter will be mailed every month and you will have a monthly recurring charge.

*Please list the recipient's name in the shipping name box at checkout. Check for correct spelling and capitalization.
*Please purchase only one subscription per transaction.

---